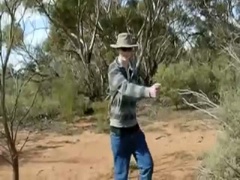 Peaceful Bushwalk is the 17th commercially released MossiMovie and also one of the shortest, at just 7 seconds. The video is a parody of increasingly popular videos known as "Screamers" which almost always feature something or someone scary screaming suddenly, which unsettles the viewer.
KountryKid as The Walking Man.
HIM as The Scary Face.
Production
Edit
It is rumoured that the video was filmed during spare time on the set of the Swat Force series. The MossiMovie was directed by LilBadger.
Ad blocker interference detected!
Wikia is a free-to-use site that makes money from advertising. We have a modified experience for viewers using ad blockers

Wikia is not accessible if you've made further modifications. Remove the custom ad blocker rule(s) and the page will load as expected.