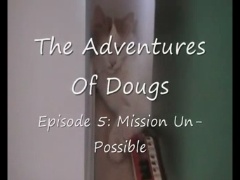 Adventures of Dougs also known as "The Dougs Chronicles" is an animal series created by MossiMovies. The series currently has six episodes all created and released by LilBadger. The movies stars his own cat, Dougs, who has since become an honourary member for his roles. While all episodes but one feature no humans, their presence is felt behind the camera. In a nod to popular Tarantino films and common distribution mistakes, the episodes were released out of order.
Series Outline
Edit
The series, which currently consists of 6 episodes, mostly follow Dougs as he investigates his surroundings and becomes entangled in a series of events. Dougs is written to be a character working as a secret agent, thought it is only ever implied. By the end of the series, Dougs is shown to have retired and is recovering from all his activities. In late 2009, a trailer was released called Hunted, which teased a full length movie.
Episode 1: Tastes Like Chicken
Edit
Tastes Like Chicken

Producer

Language

English

Released

June 30, 2009

Preceded by

Followed by
Original Release Date: June 30, 2009.
"Dougs investigates a mysterious area, where he confronts a rather rude chicken that blows his cover and forces him to hurry back to his headquarters."
Episode 2: The Accident
Edit
Original Release Date: June 30, 2009.
"Dougs is the main suspect in a large accident - did he do it?"
Episode 3: What's That Noise?
Edit
Original Release Date: June 30, 2009.
"Curiosity kills no cats when Dougs heads out to find the source of a wondrous sound."
Episode 4: Checkmate
Edit
Original Release Date: June 30, 2009.
"Dougs stays in and tries his paw at a game of Chess, can you guess the results?"
Episode 5: Mission Un-Possible
Edit
Original Release Date: June 30, 2009.
"This fifth installment see's Dougs in his most explosive adventure yet, this time it's all up to him."
Episode 6: Nap Time
Edit
Original Release Date: July 25, 2009.
"After all these adventures, it's only fair to see our hero take a well earned break."
Special Appearance by: LilBadger as "The Hand."
Other Media
Edit
"The Adventures of Dougs" has been seen in other related releases, which includes "Hunted Trailer" and "MossiMovies Official Trailer."
Ad blocker interference detected!
Wikia is a free-to-use site that makes money from advertising. We have a modified experience for viewers using ad blockers

Wikia is not accessible if you've made further modifications. Remove the custom ad blocker rule(s) and the page will load as expected.